Mrs R came in around middle of September last year to get a consultation for her teeth condition. Coming all the way from Sungai Buloh, it took her about 30 minutes to reach our clinic. This is because she was amazed with the smile transformation that I did for the other patient that I had posted in Facebook.
"If you can fix such worse case than mine, then you probably can do a smile makeover for me too," she shared her thoughts. That was the main reason that drove her to meet us.
As I checked her teeth, I was honestly clueless as to which teeth that I should fix first. It took me a while to digest. It was a challenging case for me. Mrs R was born with gigantic teeth and are not proportionate with her small face.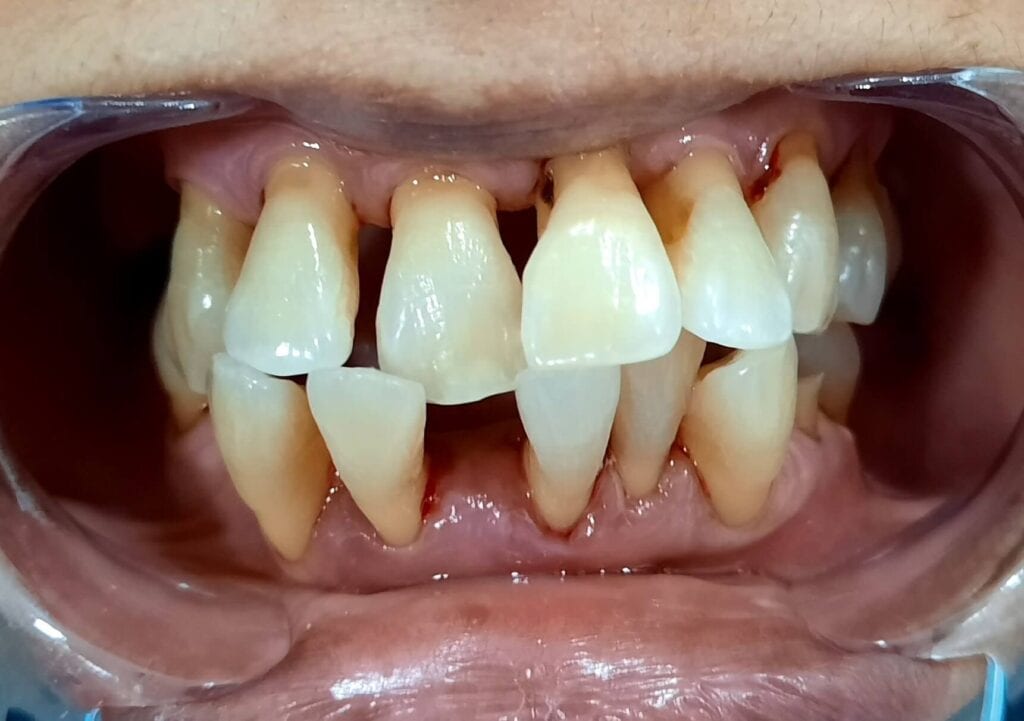 The alignment was also haywire and got worse with the presence of gum disease. Her main issue was the inability to chew food properly.
She also complained that she could not close her mouth completely. She admitted that she was quite conscious with her smile when meeting people and had been avoiding social gathering for many years.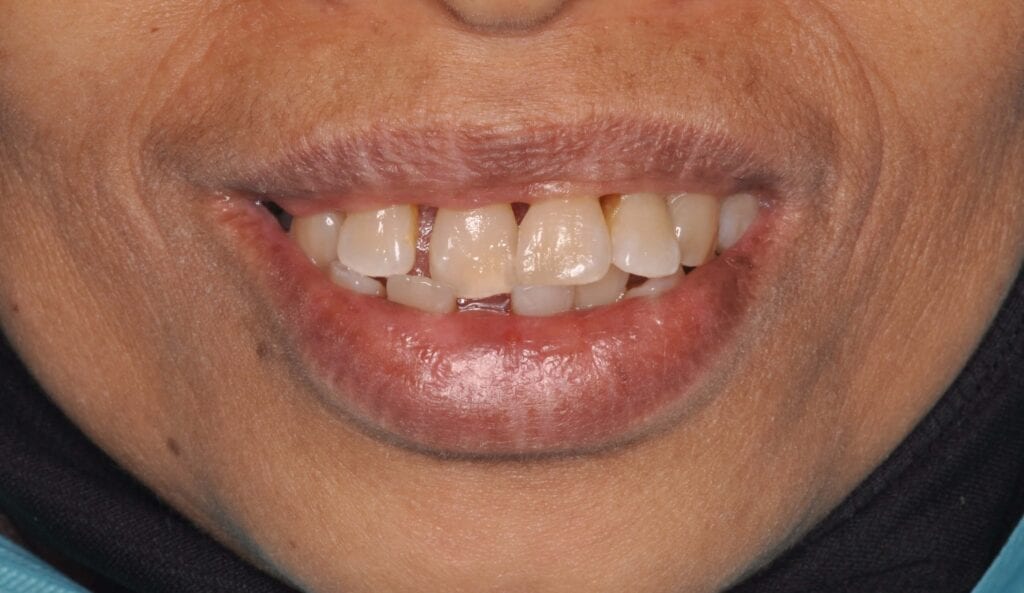 I quickly picked up my pen and list down every finding and the options for each problem. Writing down helps a lot in getting clarity for both of us. We had a long discussion about the treatment plan.
She went back that day without any treatment. I did take her teeth impression to study her case and make a wax up of the mock up smile. This enabled her to see the possible outcome for each option at her next visit.
She brought back the copy of the treatment plan sheet to digest the content and promise that she will get back to me soon. I explained to her all the options available together with the treatment cost. Everything is clear and no hidden charge.
Mrs R finally had made decision to do full mouth bridge as she could not see herself wearing removable dentures.
Prior to the bridge treatment, she had to do extractions for the severely loose teeth. I also did elective root canal treatment for two of her lower teeth. The reason behind was due to the alignment of the existing teeth. It is not possible to do a functional bridge if I did not do that.
We had to wait for 2 months before the permanent bridge can be issued. After extraction of tooth was done, the gum and bone shrink very fast. It took about 2 months for the soft tissue to completely heal and give the right contour for the final bridge.
I just issued her case recently. It took us many appointments to settle this makeover. Mrs R spent many hours in our dental clinic and it's like her second home. =P
It was worth every second. She was able to chew for the first time when I issued her temporary bridge. Though it was not as nice as the permanent one, she felt really thankful for the ability to regain the chewing efficiency.
"People may not understand the struggle that I have gone through the past years. I am really happy for this. It is of course much better than the first time I came in. Thank you Doctor," she said.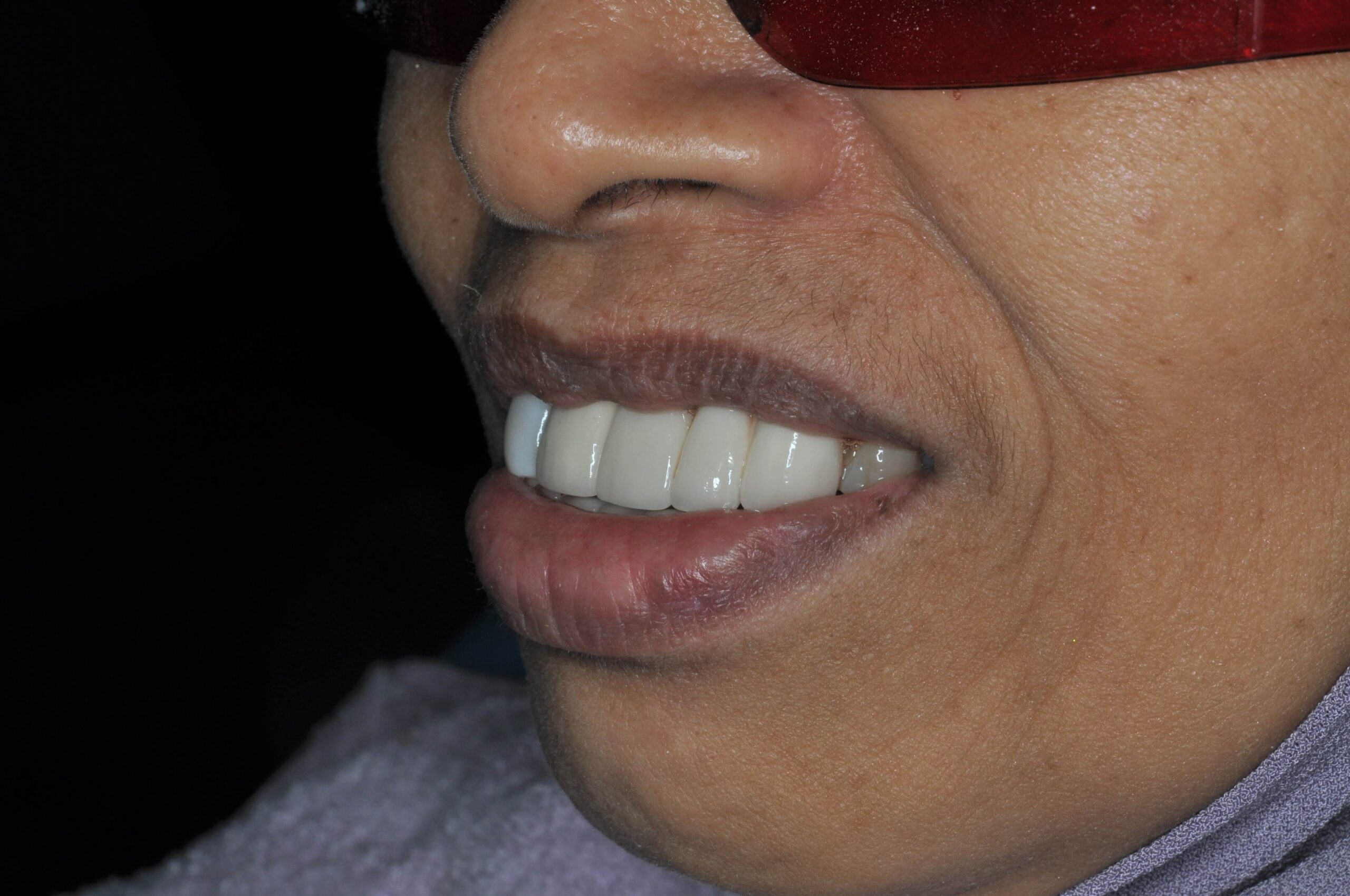 I taught her how to take care of the bridge and advised her to consider placing implants for the back teeth.
I also asked for her permission to share her teeth photos. She understood my intention to educate the public. Also, to let people know and give hope that their dental problems are solvable.
If you wish to get a makeover of your smile or any dental treatment, come in for consultation first. You can send the inquiry online. However, nothing beats the actual live check up and treatment discussion with us.
Hope to see you soon! 😉